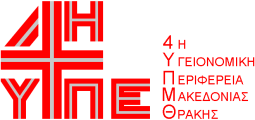 Lead Beneficiary (LB-PB1)
4th Health District of Macedonia Thrace – Special Account Fund for Research and Development
16 Aristotelous Str., GR 54623, Thessaloniki
Tel. +30 2313 327804
Fax. +30 2313 327871
Email. 4ype@4ype.gr
The 4th Health District of Macedonia & Thrace is responsible for planning, coordinating, supervising & controlling 16 hospitals, 37 Health Centers, Social Care Units, mental health centers & rehabilitation centers in the cross-border Regional Units of Thessaloniki, Kilkis, Serres, Drama, Kavala, Xanthi, Rhodopi and Evros, as well as in Chalkidiki.
It has its headquarters in Thessaloniki and it is directly linked to the Ministry of Health & Social Solidarity, as it cooperates with it suggesting health policies, measures & proposals aimed at more comprehensive & efficient delivery of health services to the region's population.
The 4th Health District of Macedonia & Thrace is directly financed by the state budget & from funding projects. It has a separate R&D department which has implemented 5 EU projects relevant to health issues & quality of life, 3 of which within the framework of the Community Initiative INTERREG IIIA / PHARE CBC Greece – Bulgaria & 2 in the ETCP Greece-Bulgaria 2007- 2013. The Project Management is exercised via the Special Account for R&D Funds which operation is monitored & approved by a joint decision of the Minister of Finance & Minister of Health & Social Solidarity.
For more information, you may visit

Project Beneficiary 2 (PB2)
Aristotle University of Thessaloniki – Special Account for Research Fund – Department of Medicine
University Campus, Tritis Septemvriou, GR 54636, Thessaloniki
Tel. +30 2310 995140
Fax. +30 2310 853283
Email. research@rc.auth.gr
The Aristotle University of Thessaloniki (AUTh) is the largest Higher Education Institution in Greece and Southeastern Europe, with 13 faculties and a total of 42 departments and 4 independent Schools. During the last 3 years, the Research Committee of AUTh has proceeded with the implementation of 3,500 RTD projects through collaboration with 1,800 partners, with the participation of 1,340 members of the teaching and research staff and 18,000 external associates. The overall budget has been up to 150 million euros, with an average annual turnover of 50 million euros.
The Laboratory of Primary Healthcare, General Practice and Health Services Research, of the School of Medicine of AUTh, is actively engaged in education and research and has been established as an educational and teaching center for Primary Health Care (PHC).  The Laboratory offers Continuous Professional Training in areas of PHC, General Practice and Health Policy. It has also established a Primary Health Care Teachers' Network with members from more than 120 Health Centers in order to support undergraduate and postgraduate "Teaching in the Community".
Due to the fact that SMiLE project also focuses on the improvement of infrastructure's accessibility, the Laboratory cooperates closely with the Transport Systems Research Group of AUTh (TSRG), with which it has established a long-standing fruitful collaboration on the issues of disability and accessibility. TSRG was established in 1998 &, since then, it has functioned within the Division of Transport Planning and Engineering, Project Management and Regional Planning of AUTh's Department of Civil Engineering.
For more information, you may visit

Project Beneficiary 3 (PB3)
Multi-profile Hospital for Active Treatment of Ardino
14, Sofia str., Ardino
Tel. +359 898654161
Fax. +359 898603651
Email. mbal.ard@mail.bg
MHAT "Ardino" is a municipal hospital performing outpatient &inpatient treatment activity in the following specialties: internal medicine, cardiology, pediatrics, surgery, anesthesiology and intensive care, obstetrics and gynecology, clinical laboratory, imaging. The activity is carried out in four divisions – internal, children's, surgical & gynecological obstetrician.
For more information, you may visit

Project Beneficiary 4 (PB4)
Municipality of Harmanli
1 Vazrazhdane Sq., 6450 Harmanli, Bulgaria
Tel. +359 373 82727
Fax. +359 373 82525
Email. obshtina@harmanli.bg
The Municipality of Harmanli is able to independently manage issues of local importance in the fields of education, health care, culture, public utilities & communal services, social assistance.
The Municipality has great experience in implementing European Programmes, especially in the sectors of culture, education, local development & information society. The total staff of the administration is 99.
For more information, you may visit

Project Beneficiary 5 (PB5)
National Emergency Aid Center
End of Ygeia Street, GR 11527, Athens
Tel. +30 2130 2143301
Fax. +30 213 2143337
Email. ekab@ekab.gr
The National Emergency Aid Center is a body governed by public law – established in 1985, under the surveillance of the Ministry of Health. It operates all over Greece, through its headquarters in Athens and its 12 departments based at Athens, Thessaloniki, Patras, Heraklion, Larissa, Kavala, Ioannina, Lamia, Alexandroupolis,Tripoli, Kozani and Mytilene).
The principal mission of the National Emergency Aid Center is the coordination for the provision of emergency aid and emergency healthcare to citizens as well as their transfer in medical healthcare units with the fleet of its ambulances. Being the national provider of emergency pre-hospital healthcare in Greece, the National Emergency Aid Center contributes significantly to:
the upgrading of the healthcare services in Greece
the immediate provision of well organized emergency pre-hospital healthcare services resulting to reduce the mortality rates and avoidable deaths, the length of hospital stay and the prevalence of temporary or permanent disability
the cost reduction of healthcare services
the enhancement of the sense of security in particular for citizens in remote and deprived areas
Last but not least, in order to provide high quality of health services all over Greece, the National Emergency Aid Center employs very experienced human resources including more than 90 doctors and 3,690 rescuers who are the crews of ambulances, and also disposes more than 1,000 transportation means including mobile units, helicopters and other means of transportation all over Greece.
For more information, you may visit